RM Nikita
8 years midwifery experience
An avid sharer of her adventures, RM Nikita, originally from New Zealand, has been putting in the hard yards in QLD to help mothers through pregnancy & childbirth.
Steadily ticking off her bucket list, she's about to embark on her next venture to WA! Travel midwifery is full of riches and challenges, and we're hearing Nikita's amazing story first–hand, so read on!
1. How has your time been in QLD?
My time in Queensland has been great! It's the third state I've worked in so far (I started in Victoria, then went to New South Wales, and have been in Queensland for the past two years now). I didn't intend to be here this long, but it's been the easiest and safest state to come and go to & from New Zealand during the pandemic.
I was on an 8-week contract in Innisfail, and had a 3-month European trip booked for after that contract when everything went into lockdown.
They asked me if I wanted to go back to New Zealand in a few days while I still could or if I wanted to stay. The manager at the time was amazing and she would ensure I would always have a job, so I just kept extending my contract and I was there for 8 months in the end.
In terms of job satisfaction, coming from a country where Midwifery is very autonomous (we have prescribing rights etc). Working in QLD also allowed me to get back some of my skills that I hadn't been using since leaving New Zealand, such as suturing and prescribing (within the drug therapy protocols).
My experience of working in regional Victoria and NSW was more medicalised and I felt I couldn't work within my full scope of practice. But I found Queensland to be the most like New Zealand Midwifery.
2. What are you looking forward to in Broome, WA?
I have had my eye on Western Australia for a while now, and it's been the state that I've been most excited to explore. I knew I wanted to go to Broome and Esperance (both for tourist reasons). I also knew a colleague who had worked in Broome who couldn't speak highly enough of it, so that ultimately made my decision.
After being in Queensland for so long, it's going to be another steep learning curve (as it is every time you change states) but I'm looking forward to another challenge.
WA is such a unique and diverse state, and I'm really looking forward to exploring the beautiful beaches, the pink lakes, hopefully seeing a Quokka in the wild, swimming with whale sharks, and riding the camels on the beach in Broome. I'm also a huge bookworm – I just finished "The Pearl Sister" which is partially set in Broome, so that also got me super excited about it.
Broome wasn't advertising when I looked, but my wonderful consultant reverse marketed me to them, and thankfully they accepted me!
So just remember that when you're selecting your desired destinations, you don't have to wait for them to advertise! Good things come to those who go out and get them!
3. What kind of benefits have you seen when nursing in a rural location?
You get to know people in the community and people at the hospital a lot quicker. In my opinion, people go out of their way to help you more than the cities, and it feels very satisfying to be able to make a good dent in the tourist activities of the place you're working in in the few weeks you're there.
I really enjoy working rurally than enjoying cities on my days off – I will never miss driving to the hospital an hour before my shift starts just to get a car park. I also love the challenges that come with working rurally, like planning transfers out and managing complex situations; that has definitely developed me as a practitioner.
Working in a tertiary hospital absolutely does give you plenty of skills, including volume and complexity – but at the end of the day, you push a button and 25 people from NICU are in your room within 90 seconds. You don't get that in rural healthcare.
I had to resuscitate a newborn for 8 hours waiting for a helicopter to retrieve them; I never did that in a tertiary centre. I sometimes worry that I'm not as comfortable with the acuity I used to deal with in big hospitals, but the main benefit is that I now have a whole new set of different but equally valuable set of skills.
4. What do you enjoy most about the travel midwife lifestyle?
The main benefit to this lifestyle is work life balance! No-one can deny your leave, you just take contracts when and where you want them. You can plan where you want to be for different seasons or events, you can collaborate with friends and work on contracts together, and you can always be around friends and family for special events because you just plan around them!
I also love being able to combine my love of travel with my career. Travelling this way has made me a lot more resilient and independent. I also find that the friendships I forge with people are far deeper and meaningful.
I was such a home body and suffered a lot with anxiety in my younger years, so this life is one I am very proud of and one that I still can't believe I'm living.
After working five years in a busy tertiary hospital in New Zealand, I was on the brink of burnout and was very close to giving up Midwifery altogether. When my family lost two of my grandparents within 12 weeks of each other, I decided life was too short to be unhappy and took the plunge.
Although I still absolutely suck at traveling lightly, I love living out of a suitcase.
5. You are on your 3rd placement with us – what has been your highlight working with Affinity so far?

My Mackay contract was definitely a highlight. Being so close to the Whitsundays and beautiful tourist attractions were amazing. Plus, it was the biggest regional contract I've done so far. It was nice to be in a bigger city and have higher acuity in the hospital to get my skills up again after being so remote.
When I swapped to Affinity, I spent a day interviewing four different agencies, and decided on Affinity because of their amazing offers around hotel isolation/ quarantine – they seem to be only agency currently offering this level of support, which is amazing!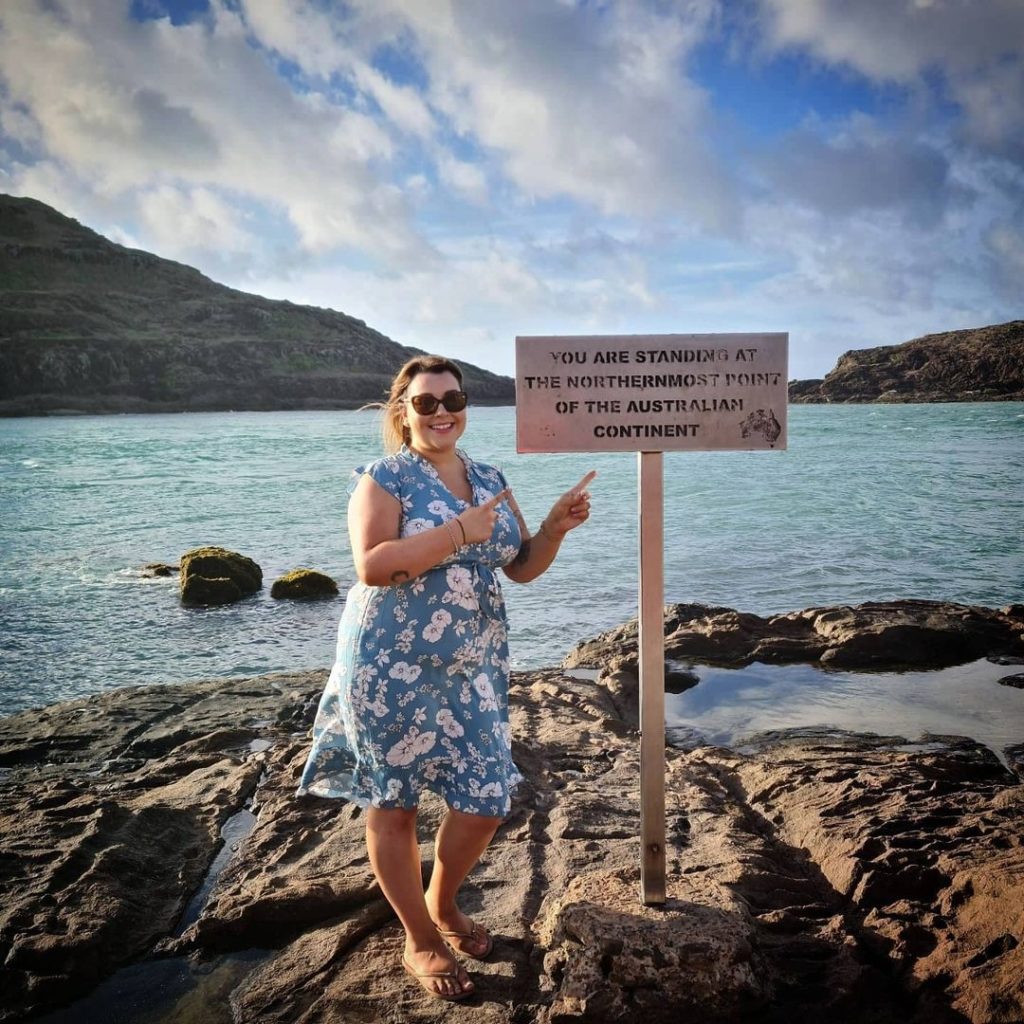 6. You've taken many beautiful photos! Do you have a favorite shot? What's the story behind it?
I am a bucket-lister, so any photo of me completing a bucket list item always holds a special place in my heart.
Recently, helicopter photos over the Torres Island were some favourites, especially the selfie of me with the hospital from the air (I usually take photos of the hospitals, but that was definitely my first hospital selfie from the air!).
So many photos don't look like much, but the story behind them is where the real magic is. There's a photo of me in Weipa, standing next to a car in a dress with mud all up my legs, where my friend and I had just pushed our car out of the bog. That photo isn't anything special, but it always makes me laugh.
7. What advice would you give other midwives who want to do travel midwifery?
Just give it a go! It isn't as scary as it sounds, and you have so much more to gain than lose!
You can do one or two contracts while you're on long service leave, or to bump up your income before retirement.
If you want to travel, and you want to diversify your clinical skills, this is the way to do it! I have nursing friends who have been exposed to multiple areas of nursing that they couldn't land in big cities because of competition.
Now they're extremely highly trained and skilled, so agency nursing/Midwifery can even be a way to get your foot in the door to try something new!
I honestly don't think I would still be a practicing midwife today if I stayed in my stressful tertiary job. Something had to change and I'm so grateful that I found a work/life balance that works for me and has renewed my love of Midwifery.
My goal when I started agency work was to only be doing it for 4 years and to complete all the states (and travel 30 countries before 30 inbetween contracts) then come back to New Zealand to settle down. However, I got addicted to the lifestyle and now I just turned 30, I have a lot more I want to tick off (thanks Covid), and I have no plans of returning to New Zealand permanently or settling down any time soon!
If you're inspired by RM Nikita's story, sign up with Affinity and let's talk about more amazing opportunities that await you!
Start now