2m 40s read
You've seen the Gippsland Dairy yogurt on the supermarket shelves; now we're taking you deep into the very region that houses some of Australia's leading produce hubs!
A lesser-known area to most, Bairnsdale sits cosily in a bay in the East Gippsland region of Victoria. While you're here, why not check out this mix of local businesses to have your next meal at? 
You've probably spotted them in the 2018 Good Food magazine by The Age – celebrating things all Gippsland food and drink, this quaint spot has bested awards for the AGFG Reader's Awards.
A seriously solid selection of breakfasts, set menus, and dinners… talk about spoilt for choice! Themed menus like curry or burger nights?
That's an easy thing to jump out of your seat for! 
For a satisfying fill, opt for their Bacon and Egg roll on grilled naan bread! The smell of charred, maroon bacon, cooked as crispy as the edges of the fried egg nestled next to it, will turn you into a new regular diner.  
For vegetarians, give the beetroot salad or flora & funghi mushroom pate a try! There's no better place to hit your palate with the finest Victorian produce. 
Who doesn't love a bustling, trendy atmosphere to inhale your burrito or nachos in?!  
A revered restaurant for Mexican food in Bairnsdale, all things spicy, crunchy and flavoursome are found right here.
With fun vibes and great service, it's the Bairnsdale must-do for your sangria fix too. 
Make sure your belly gets a taste of their Chili Con Carne Nachos Supreme for something punchy.
Want to go all in? Their Burrito Supreme is packed to the brim with your choice of filling, cheese and onions.   
Open from Wednesday to Sunday, they seem to magically know when our mid to end-of-week cravings for Mexican kick in.
Even better, they have cool merch. Definitely a place you need to tee up with your mates! 
Looking for a pub on the water?
Perfect for a quick bite or long night, this 152-year-old spot has been welcoming guests with hearty dishes from delightful local seafood, to crispy, marinated duck and your favourite red meats.
Every dish is filled to the brim, so you can't go wrong with anything you choose! And no joke, their Seafood Platter for One is pleasingly overflowing with a medley of prawns, fish, calamari, mussels and crispy, beer battered chips.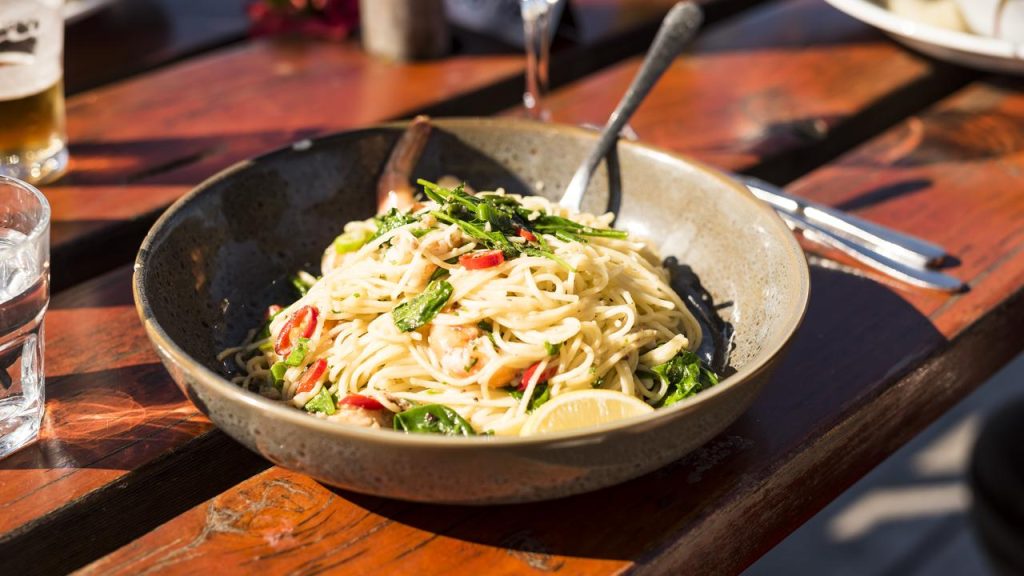 We all love a carb fix, and you can't go past their prawn spaghettini, loaded with Victoria's freshest prawns and pasta. It's the perfect meal to refresh when you're by the bay! 
Grab a bite from their bistro open from 12pm-2pm, or 6pm-8pm. Or, refresh with a bevvy at the pub, open from 11am daily! 
Whether you want breakfast, lunch, or dinner, count on these long-standing restaurants in Bairnsdale to fulfil whatever your palate desires when hunger calls! 
Ready to head to the food bowl of Australia?
Register with Affinity today and let's see where you can go! 
You may also like: