I am sometimes asked what it's like working as a FIFO nurse – find out what my experience was like after returning to a site after a few years!
Back in the fluros and steel caps, ready to fly out to site to maintain clinical hours. It is a one-nurse post on an industrial site for clinic and emergency coverage.
Yes, medical personnel must don the same safety wear as all other workers, down to the steel capped boots. It is a mandatory site requirement if you need to respond to emergencies in the field.
Dash-8 with other fluoro-clad warriors saying goodbye to home comforts for 2 weeks.
After a 70-minute flight and 2-hour drive, I arrived at my nursing post and received a rushed handover from a colleague bursting to get home.
This site is only 25km from the closest hospital, but must legally have a nurse or paramedic on site. This ensures the town's services are not overwhelmed by FIFO workers creating longer waits for residents.
Entrance to site. Security checkpoint requires a swipe card to open boom gate. Covid-19 declarations and security clearance must have been arranged prior to arrival.
After the handover and quick look at the medical centre and administrative building, 12 hours after leaving my Brisbane home, I was given the key to my home for the night. This is pretty typical of a mining camp 'donga'.
Equipped with a single bed, bar fridge, TV and cupboard with a small ensuite, the walls are very thin, and getting a decent sleep can be difficult without earplugs! Eight dongas usually share a small deck, with the camp holding up to 320 workers.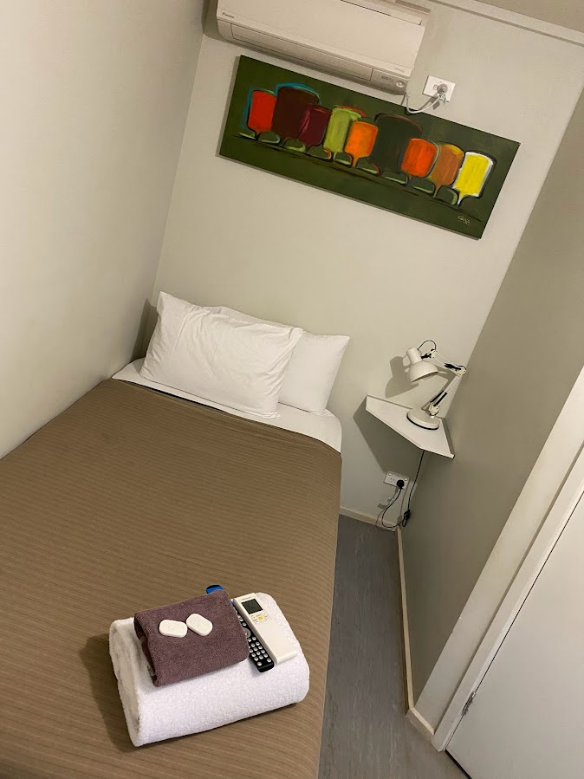 Thankfully, I did not have to remain in a donga for the 2 weeks. A nurse's unit had been established for the 2 back-to-back nurses as alternative to camp accommodation – and it is situated in town!! This is most unusual for site nursing, but a welcome alternative for this 2-week stint!
The town was totally committed to breast cancer month and had decorated the main street so no one could miss it (including a big "bra tree"!).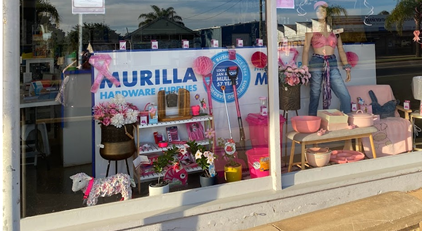 About the work hours…
Site FIFO nursing is usually 12-hour shifts, plus on call every day for the full rotation – in this case 2 weeks. Up at 5am to get to site by 6am, home by 6:30pm. Many days, the medical facility may only see one to two patients, so the days can be very long.  
The hours and on call roster also mean you must remain within a defined distance from site to respond if required, since the vehicle is fitted with a GPS locator. 
What is the work like? 
Other than seeing patients, these are a couple of other jobs to be done: 
Checking the clinic and ambulance equipment and supplies 

Training the workforce in First Aid, CPR, and LVR (low voltage rescue)

 

Health and wellbeing presentations at safety meetings

 

Hydration testing

 

Drug and alcohol testing

 

Conducting audiometry screening

A lot of checklists to complete daily, weekly, and monthly

 
There is obviously no wall oxygen or suction, so these must be checked daily – it is normal for oxygen to run out from daily level checks rather than clinical use.
There is a dedicated number to call for medication phone orders, clinical escalation, or for consulting to gain advice about any clinical concerns.  
What are some typical presentations?  
They can be quite varied. Eyes and ears can be common work-related issues. Hearing protection, dust residue, high-pressure air, water, and chemicals all contribute to these issues. 
Burns, lacerations, sprains, joint injuries, heat-related illness, respiratory tract infections, and the occasional chest pain.
Anything that would normally present to either a GP or an emergency department.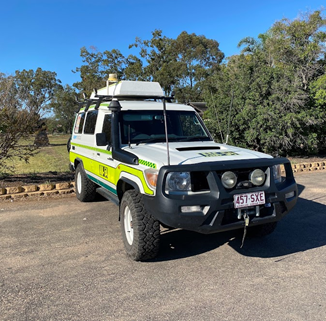 The speed limit around site ranges from 20km/h to 50km/h and must be always adhered to!
Our job is to assess, provide initial treatment, and refer for ongoing care if required. The ambulance is used for accessing workers/patients in the field, not to the hospital.  
In fact, we are not allowed to transport a patient on public roads! We can care for the patient and transport them to the closest public road to meet QAS, St John's and other ambulance services. 
An interesting fact about the company vehicles (including ambulances): Many are fitted with IVMS (in-vehicle monitoring systems). 
The alarm goes off if you drive over the speed limit, suddenly stop, accelerate too quickly, take the seatbelt off, open the door before the vehicle has come to a complete stop, or if ignition key isn't turned fully off!  
You must respond to a report explaining why the IVMS was triggered.
That covers my 2-week journey of site nursing! It took some adjusting and was a lot different to hospital nursing. Different policies and procedures for things you now take for granted, a lot of autonomy in other areas.
Travel nursing will take you so many places! Join Affinity and hop right into your travel nursing adventure.